Sedona Lodging
Enchanting Sedona Cottage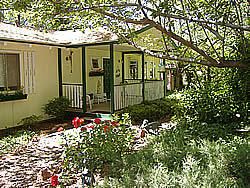 This adorable cottage is located in a historic West Sedona neighborhood and sits at the base of a powerful Sedona vortex. The cottage is surrounded by towering mulberry trees and lush gardens, attacting a wide variety of birds and butterflies.
The cottage can be rented as a 1br/1ba floorplan (max 2 people), or a 2br/2ba floorplan (max 4 people).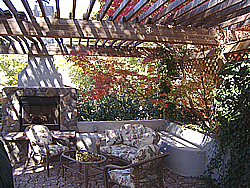 Available on a weekly or monthly rental basis, this property includes the following:
Spacious floorplan with vaulted ceilings and windows all around -- loads of natural light.
Large master bedroom with king bed. Second bedroom is furnished with a twin trundle bed (two separate beds, one pulls out from under the other).
Main bathroom has a shower and large vanity area. Second bathroom (available with 2br/2ba floorplan rental only) includes bathtub/shower combo.
Fully equipped kitchen includes many extras like crock pot, blender, French press, coffee bean grinder, wok, plenty of pots and pans, and even basic spices.
Entertainment center includes CD and DVD players, with a wonderful collection of uplifting DVDs and music.
Health conscious Eco-WiFi system provides high-speed internet connection with significantly reduced radiation levels as compared to standard WiFi systems.
Laundry room with full-size washer/dryer - laundry detergent supplied so you don't have to buy any.
On-site Senzar Library with a wonderful collection of classic books on metaphysical, self-help, and spiritual topics.
Birding books for identifying local species, backpacks, hats, easy-carry cooler, other hiking essentials
Red Rock Pass - so you don't have to buy one!
Fully furnished patio, including gas grill and wood burning fireplace.
Back decks and patio open to the beautiful gardens, power spot and red rock views.
Workstation for cleaning and repairing mountain bikes
Property is short walking distance to Whole Foods, Starbucks, restaurants, art galleries, boutique shops, and more!
More art galleries, main tourist hub, and more restaurants are just 2-3 minutes from the cottage by car
| | |
| --- | --- |
| | |
Delightful!
Apr 22, 2017 by Debi H., Portland, OR, USA
I dreamed of leaving the dark rainy cold of the Pacific Northwest to be in a place where I would wake up to warmth and sunshine. I wanted the soft songs of birds summoning in the morning and an outdoor area surrounded by flowers with a beam of warm sun 'just so' in order to enjoy morning coffee. I found it all here at Michele's lovely little cottage in Sedona. Quiet, peaceful, surrounded by graceful flowers and visited by a myriad of song birds, it was absolutely perfect. It was my first trip to Sedona and I was blown away by the beauty. Michele herself is charming and helpful, vivacious and fun. It was a pleasure meeting her and staying in her home. The charming hostess that she is, she allowed my husband and I to have friends and family over, where we hosted a few dinners and made some nice memories. Thank you Michele!

Mountain biking Sedona? Rent this cottage.
April 12, 2017 by Sam P., Maine, USA
I can't gush enough about our stay at Michelle's house. I was swamped with work prior to my departure to Arizona, so like any disorganized guy, I completely forgot to write Michelle about our travel plans until about an hour before we were supposed to get to the house. I was not expecting to hear from her, but when we pulled in the driveway there she was, ready to meet us and show us the ropes. She was super nice and informative about all things Sedona, and went a long way to getting us situated. If you're a mountain biker visiting Sedona, I would highly recommend this house. There are a lot of trails you can easily ride to (like 5-10 minutes on the pavement to trailheads such as the Airport and Adobe Jack). This was great for us since I could easily get some early morning solo rides done without having to load my bike in the car. Then when it warmed up and the family was ready, we could strike out for trails further afield , but never had to drive more than 20 minutes to a trailhead. The house is only a 10 minute walk to Over the Edge bike shop so we spent a lot of time there getting beta on the trails, the folks there were really helpful. And, the best part for us was the Whole Foods at the end of the street from the house (literally 2 minutes by bike). This meant we could easily grab dinner fixings at the end of the day of riding, and could sit in the fantastic back yard where we would have a few beers and grill up something on the BBQ as the sun set. This place was amazing all around. Thanks again for everything Michelle!

Simply Perfect
Apr 4, 2017 by Angela L. Niagra on the Lake, Canada
Everything was as described and better, a well equipped, well appointed cottage, Michelle has it covered! We enjoyed every moment!

Lovely, Quiet, Near to Sites
Feb 10, 2017 by Judy K.,
Michelle is extremely accommodating. Lists of local restaurants with personal comments, hiking guides and Red Rock Pass, stocked with condiments, laundry soap and dish soap. No need for us to purchase. Even local grocery store discount tabs on the house key ring. Lots of indoor and outdoor space. Thanks for a great visit.

This is a Beautiful, Peaceful House
January, 2015 by Priscilla F., Montpelier
This is a lovely, very well furnished home on a quiet residential street in West Sedona. It has a nice open living area with windows and doors on two sides, allowing for much light indoors and views of some of the red rocks. The kitchen is very well stocked. The yard is beautifully landscaped and friendly neighborhood cats come to visit. The owner goes out of her way to provide nice touches, such as candles in the bedroom. Also there is an extensive library of books that you can read while you are there. The house has a very peaceful feeling. Although we were out a lot hiking, we spent most of one day in the house during a large snowstorm (unusual for Sedona, we're told) and found it very restful and enjoyable. If we return to Sedona, we'll definitely stay there again.

A Truly Relaxing Home
July 18-25, 2014 by D & S Freeman (Toronto, Canada)
My wife Sandy and I just left Michele's property, Willow Cottage. We wanted to extend our stay a further 4 days, but unfortunately for us, the following dates were not available. What a shame. This property is in a very quiet neighborhood. The yard is an oasis in this desert climate. An oasis of serenity. The cottage itself is very comfortable, with all of the amenities of home. If you are coming to Sedona we would highly recommend that you stay here. Michele is a wonderful person, with a lot of local knowledge, and pointed us to one of our favorite hikes here so far, on the Bell Weir Trail. So very happy to have met you Michele.

Perfect
June, 2012 by Kelly Lougheed (Ontario, Canada)
The house was just as described in the rental ad, the pics were all true and the house was just what we'd hoped for. This home was roomy and spacious. We thoroughly enjoyed the gardens and neighbourhood. This was the perfect home away from home for us while we enjoyed the hills of Sedona.

Simple, Tranquil, Perfect Location
August, 2011 by Suzanne Nuanez (Missoula, MT USA)
My sister and I were visiting Sedona on family business and needed to stay in West Sedona, in order for close access to where we needed to be. This cottage was in a perfect location for our needs. It is a simple and very clean, comfortable little house, with a great studio apartment option for additional room. The kitchen is well furnished and we prepared several elaborate meals there. The outside yard area is the nicest feature, with a very cozy, and comfortable seating area, with a lot of nice, cool shade. There is a very nice collection of books that we enjoyed throughout our week there. The owner, Michele, was so friendly and helpful and she was flexible with us on figuring out the dates we were there for. The house has been well cared for and well loved over the years and it has a very relaxing, tranquil atmosphere. We would stay there again in the future.

Relaxing and Cozy
August, 2010 by Nancy Alfier (Massachusetts, USA)
This cottage is the perfect place to relax and enjoy the beauty of Sedona. The outdoor space is amazing .. even has fruit trees. Apples to pick and take along hiking. Will go back there for sure! Loved it!

Wonderful Cottage
May, 2009 by David Severn (Portsmouth, NH USA)
We stayed here for a week. Everything is as described. The cottage is clean, well furnished in a pleasant, residential street, with a delightful garden, and with easy access to Sedona. We would stay here again.

Wonderful Home Away From Home
April, 2009 by Laurie Battaglia (Southeastern PA, USA)
We stayed in this cottage for a week. It comfortably sleeps 3 people and has a full kitchen and washer and dryer. Very convenient! The owner has set up a fabulous garden. I would return to this home again in the future.

A Delightful Stay in Sedona
April, 2008 by J. Casey (Toronto, Canada)
My husband and I were blessed to stay at this cozy cottage for a number of weeks in April 2008. It was an incredible time of year. While Sedona may be in the desert, the property surrounding the cottage was abundantly green - in fact the lilacs and lots of other fragrant foliage came into bloom while we were there. The twinkly-light lit patio is fabulous for evenings outdoors and morning coffee or meditating - with lots of comfy lawn furniture, a large gas bargecue and a real wood burning fireplace. The neighborhood is also very green so walking in the area is very pleasant. This was a perfect place for us to relax and regroup during a very stressful time in our lives.

Excellend Sedona Stay
October, 2008 by Rachel Zuses (Portland, OR, USA)
This home was an ideal place to stay during my visit to Sedona. It was easy to get everywhere I wanted to go, with the option to walk to many shops and a grocery store. The most notable and enjoyable feature of the cottage is the lush garden that completely surrounds it. It's located on a quiet residential street, adding to the peaceful quality of the property. The view of the surrounding red rock from the top of the street (a three minute walk) is spectacular. The cottage was comfortable, tastefully decorated, and fully equipped. The library is full of books on a wide variety of metaphysical topics and gave me as much reason to relax at the cottage as to go out and explore! Highly recommended.


Reserving the Space

Minimum rental period is one week. Weekly rental rate ranges from $1,250 to $1,450 depending on which floorplan and rental time period that you choose. Rate is all inclusive (includes rent, cleaning fee, utilities, and area lodging tax).

To check availability and specific pricing, or to reserve the space, contact Michele Fitzgerald at senzar@sedonaportal.com or call (928) 204-2717.