Dinshah Spectro-Chrome Therapy
Color Gels for Dinshah Color Applications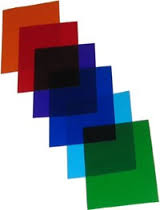 Packet includes eleven (11) 4x4" Roscolene color gels as specified in the Dinshah Spectro Chrome Therapy practices that are reviewed in the book Let There Be Light .
All the gels are numbered and the packet includes instructions on how to combine gels to make the 17 recommended Dinshah colors. The packet also includes suggested dowsing questions for dowsing the appropriate colors for your particular objective and other information that can be useful in a wide range of supplementary applications.


Prices include shipping!
All orders are delivered via USPS First Class regular mail. Estimate 3-7 days delivery time for USA locations and 10-14 days for international deliveries.
Let There Be Light - Hardbound Book

To order Dinshah's book Let There Be Light please place your order directly through the Dinshah Health Organization at www.dinshahhealth.org